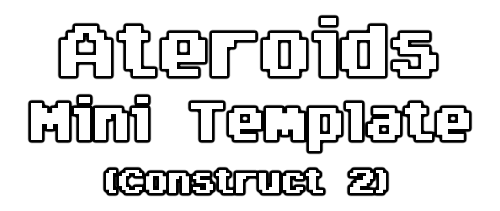 Asteroids Mini Template (Construct 2)
A downloadable mini template
This template was created so you can make your own Asteroids without having to program everything from 0. Or if you're new in the world of game design and development, you can learn new elements that will help you in your own creations.
As a base, you can implement your own designs and modify the code to suit your needs.
The template contains:
Base movement of the space ship.

Asteroids divide themself into 4 differents sizes.

Game compatible with smartphones

Controls on screen (for smartphones)

Only 54 events (you can open the file with the free version of Construct 2).
Comments on each event. (In English, Spanish and French)
You are free to sell the final result with your own designs or those that come by default created by
(citing him in the credits at least). But you cannot sell the .capx file, or the template. You are not bound to put me in the credits, but thanks if you do =)
---
Latest changelog:
V2 (12/05/2016): Add features to smartphones.
V1 (30/03/2016): Initial release.
---
Play the demo here:
Game using the template:
Get the premium Block-Breaking template here:


(It's free for a limited time. Discount ends the 16-April-2020)
---
Open with/Abrir con/Ouvrir avec:
Construct 2 - r227 or newest
Recommended download/Recomendado descargar/Recommandé telecharger:
NW.js - Compatible version with Construct 2
Download
Click download now to get access to the following files:
Asteroids Mini Template v2.0 - ENG.capx
463 kB
Asteroids Mini Template v2.0 - ESP.capx
463 kB
Asteroids Mini Template v2.0 - FR.capx
463 kB
Asteroids Mini Template v1.0 - ENG.capx
453 kB